Amazon's most recent foray into the healthcare space has expanded into Dallas. After a nearly $4 billion acquisition by Amazon, primary care provider One Medical now has two Dallas locations and is looking to grow again in North Texas before the end of the year. So what makes One Medical different, and what caught Amazon's eye?
San Francisco-based One Medical is a membership-based primary care practice with around 200 locations across the country. The provider is also increasingly offered as a benefit through employers, virtual services, and nearly a million patients nationwide. One Medical is tech first, with a robust app where patients can book appointments and other services such as testing and pharmacy pickup.
Membership provides unlimited access to 24/7 virtual care, provider messaging, access to the app, and easy booking for next-day in-person appointments. So what makes One Medical unique? "One Medical's philosophy is rooted in quality care, patient-centered design, and a smart application of technology," says Dr. Greg Hayes, district medical director for One Medical in Dallas. "In order to deliver the best preventive medicine, acute care, and chronic condition management, One Medical provides their board-certified medical professionals with the time and tools to facilitate the best care for your health."
One Medical's first two locations are in Preston Center and Prestonwood Place in Addison, with plans to expand to Mockingbird Station by the end of the year. The clinics hope to provide spa-like conditions with bright engaging colors. Plano and Fort Worth locations are on the way in 2023. One Medical arrived in Texas two years ago in Austin, and its first location in Houston opened last year. Dallas is One Medical's 17th market. Here in Dallas, One Medical is partnering with Baylor Scott & White Health to provide coordination across primary and specialty care services.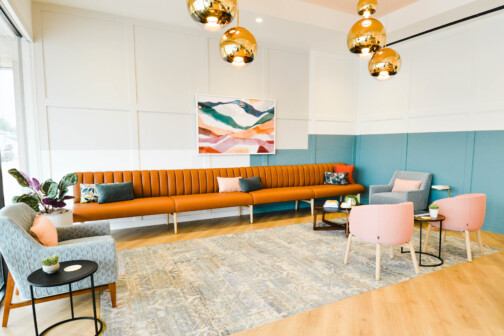 Though there have yet to be employer partnerships in the region, there are more than 8,500 employers around the country that have sponsored memberships on behalf of their employees and dependents. The hope is that the hybrid and virtual care models can save employers money by avoiding hospital care with consistent primary care.
Earlier this summer, One Medical and Amazon agreed to a $3.9 billion acquisition, but the agreement didn't come without drama. Bloomberg reported that CVS had been negotiating with One Medical for months and even offered the same amount that Amazon eventually paid. A filing with the Security and Exchange Commission said that CVS and One Medical began negotiations in October 2021; Amazon entered the picture and closed the deal in July.
The One Medical purchase follows several explorations into healthcare by Amazon. In 2018, Amazon acquired the online pharmacy company PillPack and launched Amazon Pharmacy in 2020 to deliver prescriptions. Later, Amazon, JPMorgan Chase, and Berkshire Hathaway formed Haven, the nonprofit healthcare organization whose goal was to reduce healthcare spending that formed in 2018 and dissolved in 2021.
Amazon is ending its primary care delivery model, Amazon Care, by the end of the year. In a statement to D CEO Healthcare, Amazon said that the decision to end Amazon Care was made independently and before the One Medical acquisition. Amazon Care launched in 2019 as a pilot for employees in Seattle and expanded the product to employers last year. The service did not include physical locations and provided virtual and in-person primary care services. In the end, Amazon decided that the services were not robust enough to attract large employers and is shuttering the service.
There would have been a significant amount of duplicate services between One Medical and Amazon Care should they have coexisted. The move is one of many North Texas has seen in which non provider entities to move into the provider space. Blue Cross Blue Shield of Texas has their own primary care clinics, Walgreens has partnered with Village Health Partners, and Walmart collaborates with Oak Street Health. CVS-owned Signify Health partners with Aspen Physician Network to provide more efficient care as well. Many of these practices are focused on efficiency, utilizing technology, and avoiding hospital costs.
One Medical appears to be the primary care provider of choice for Amazon in the future.
"We think health care is high on the list of experiences that need reinvention," said Neil Lindsay, senior vice president of Amazon Health Services, in a statement following the acquisition. "We love inventing to make what should be easy easier, and we want to be one of the companies that helps dramatically improve the healthcare experience over the next several years. Together with One Medical's human-centered and technology-powered approach to health care, we believe we can and will help more people get better care when and how they need it. We look forward to delivering on that long-term mission."