With fresh cracks appearing on the ground, the Himalayan town of Joshimath in northern India continues to make headlines. Why the town is sinking remains a subject of debate. But scientists say there is a bigger disturbing picture unfolding in the Himalayas.
They say the pace at which China and India are building infrastructure across the Himalayan region can significantly increase hazards and risks of natural disasters. Global warming is further destabilising the ecologically fragile region as rising temperatures continue to melt glaciers and permafrost (permanently frozen land).
And this is where highways are being carved, railway tracks are being laid, tunnels are being drilled, dams and airstrips are being built on both the sides of the Himalayas.
"So, basically you are bringing yourself closer and closer to the hazards" said Andreas Kaab, professor of physical geography and hydrology at Oslo University, who co-authored a major report on the cause of a devastating avalanche in Chamoli district of Uttarakhand state in 2021.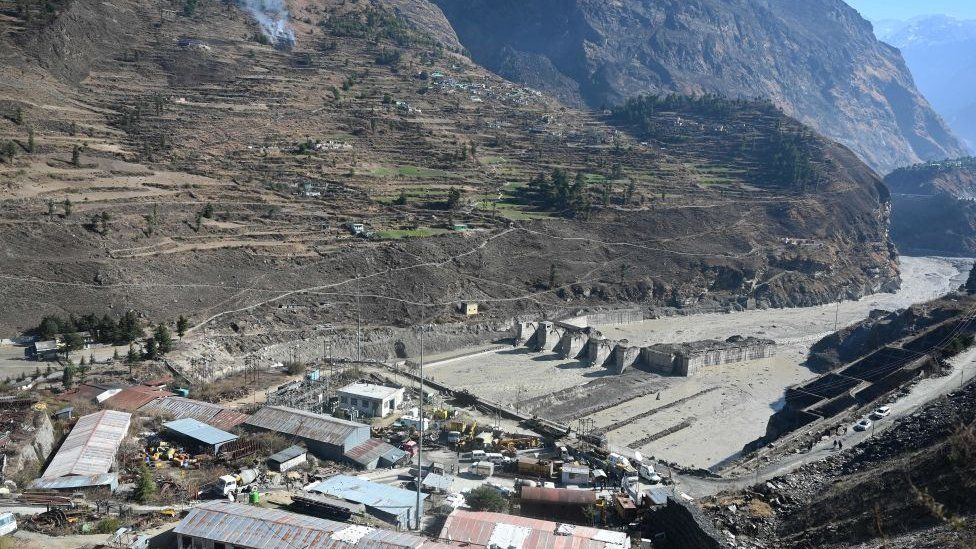 Studies have focused on individual events but when they are pieced together, they show increasing risks of hazards across the region – 3,500km (2,174 miles) of which China and India share as their de facto border, called the Line of Actual Control (LAC).
There was one partial or fully road-blocking landslide on every kilometre along the NH-7 national highway in Uttarakhand during September and October 2022, a study published in the Natural Hazards and Earth System Sciences said.
Other studies have also pointed at similar hazards.
"In addition to the environmental conditions, road construction and widening have contributed to the formation of new landslides which are often shallow and small, but which nevertheless inflict fatalities, [cause] severe damages to infrastructure and traffic disruption," a study published by European Geosciences Union said.
Landslides and other natural disasters have increasingly become common in recent years. The newly built Char Dham highway in Uttarakhand has also seen parts of it collapse during the monsoon rains last year.
More than 200 people were killed and two under-construction hydropower stations were severely damaged during the Chamoli avalanche.
While preparing a report on the incident, India's National Disaster Management Authority found that officials in the district had not factored in climate and infrastructure related risks while making plans to deal with future disasters.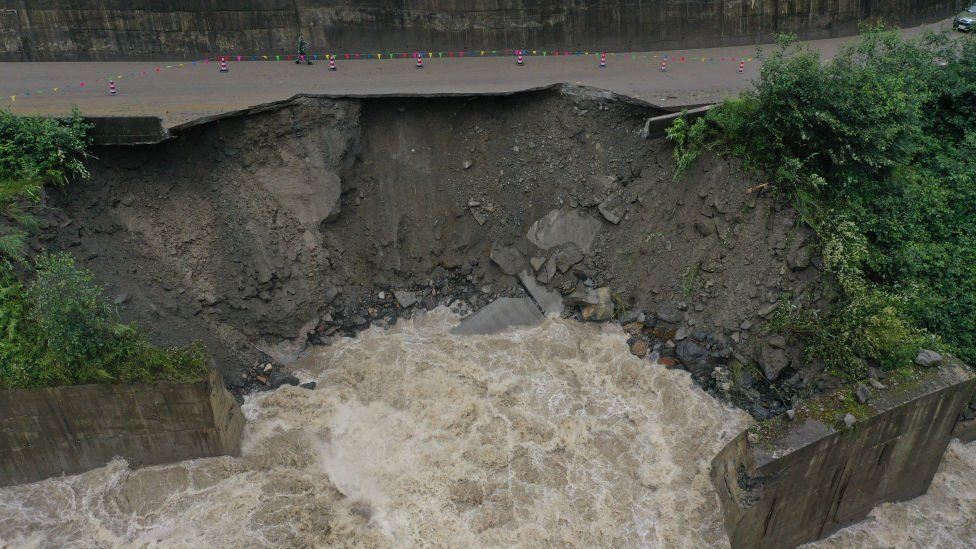 India's ministry of environment, forests and climate change did not respond to our questions about infrastructure projects posing threats to the Himalayan region.
Experts say the risk of natural disasters is equally high on the Chinese side of the Himalayas. Thawing of permafrost is posing immense threat to the infrastructure built in the region.
A study published in Communications Earth and Environment journal in October found that nearly 9,400km of road, 580km of railways, more than 2,600km of power lines and thousands of buildings in the Qinghai Tibet Plateau are in permafrost area.
"By 2050, 38.14% of roads, 38.76% of railways, 39.41% of power lines and 20.94% of buildings may be threatened by permafrost degradation in high-hazard areas," it said.
In eastern Tibet, to the north of India's Arunachal Pradesh and Sikkim states, the terrain becomes difficult. The risk of rivers bursting out from their natural path remains high.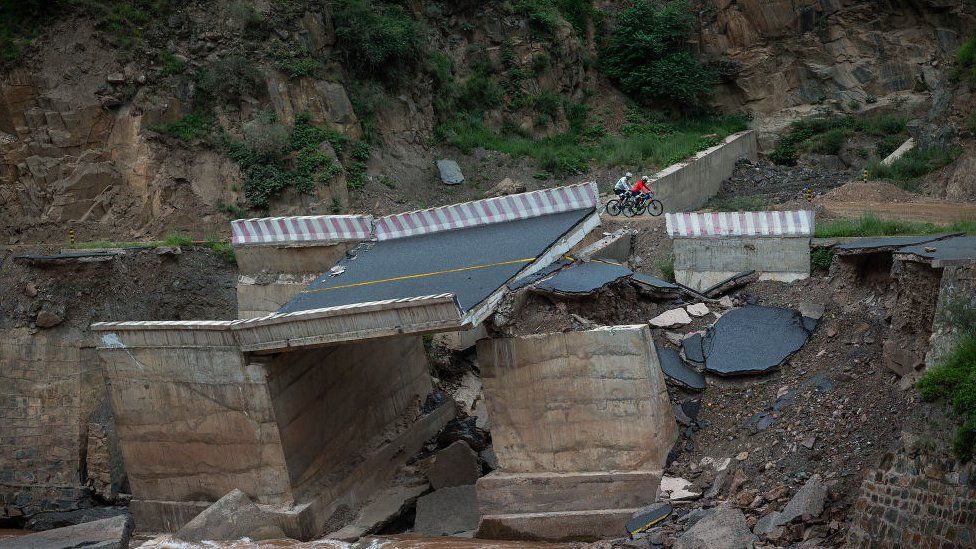 "The region has experienced a series of high-magnitude ice-rock avalanches, glacier detachments and glacial lake outburst floods in recent decades," a report published last year in The Cryosphere journal said.
Earlier this month, 28 people died after a massive avalanche hit the exit of a tunnel in the Medog county in Tibet.
In 2000, a huge landslide destroyed all bridges, roads and telecommunications facilities built over the previous decades in Bomi country in the same part of Tibet.
"The region is the focus of considerable investment by the Chinese government, including construction of the high-speed Sichuan-Tibet railway," said the report published in The Cryosphere.
Chinese officials say the railway will go over 21 snow-capped mountains more than 4,000m (13,000ft) above sea level) and cross 14 major rivers.
"In addition to the rugged terrain, the railway will face other hazards such as avalanches, landslides and earthquakes," You Yong, chief engineer of the institute of Mountain Hazards and Environment of the Chinese Academy of Sciences, told Xinhua News Agency.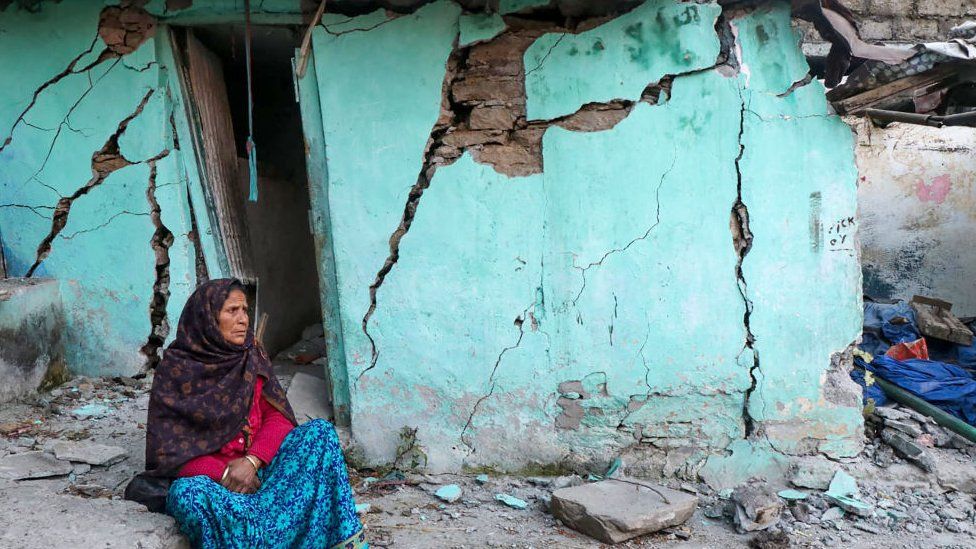 Experts say increasing settlements in places like Nyingchi and Shigatse have also meant significant increase in development of infrastructure, including roads and telecommunications.
"They have built 624 new border settlements," says Robbie Barnett, professorial research associate with School of Oriental and African Studies in London, citing Chinese media reports.
"Each of these has to have extensive infrastructural components including roads, power supplies, water supplies and so forth.
"Many are at extraordinarily high altitude, over 4,000m, where there has never been human settlement that we know of, and where human settlement would seem impractical if not impossible, without extensive construction, supplies, inputs and so forth."
China's ministry of ecology and environment could not be reached for comments.
To the south of the Chinese areas that have seen new settlements, on the Indian side are states like Arunachal Pradesh and Sikkim where construction of hydropower projects is going ahead full steam.
But these are also the states that have been identified by the Central Water Commission of India as the ones that have seen significant expansion of glacial lakes and water bodies between 2009 and 2020, mainly because of melting glaciers.
A study published by American Geophysical Union in 2020 found that of the 23 critical glacial lakes in India, 17 were in Sikkim. Such lakes are categorised as critical when they have filled up because of melting glaciers and are at risk of bursting.
China and India have always worked together during international climate talks to protect their interest, often countering the West.
Experts say such partnership is not as effective when it comes to dealing with the challenges of climate change or other environmental degradation in the Himalayas.
Instead, experts say, geopolitical competition and hostility has driven both the Asian giants to ramp up all kinds of development activities, including military ones, in this hazard-prone zone.
"This should have been an international biosphere reserve where no disturbance should have been allowed," says Jeffrey Kargel, an American geoscientist who has done many studies on the Himalayas.
"But what we see today in the Himalayas is rising risks of hazards, growing exposure to such hazards, and as a result increasing vulnerability in the region.
"We are going to see many many disasters here."
Source: BBC