Since its invasion of Ukraine, Russia has become increasingly reliant on China for economic and diplomatic support.
Russian Prime Minister Mikhail Mishustin will visit Beijing for talks next week, China's Foreign Ministry announced Friday. The visit – scheduled for Tuesday and Wednesday – comes as Russia has become increasingly reliant on China for economic and diplomatic support since its invasion of Ukraine.
"The two sides will have an in-depth exchange of views on practical cooperation in bilateral relations and issues of common concern," ministry spokesperson Wang Wenbin said at a daily briefing.
"We look forward to further strengthening cooperation between the two sides, deepening people-to-people and local exchanges (and) injecting strong momentum into the recovery of the world economy," Wang added.
Chinese President Xi Jinping met with Russian President Vladimir Putin during a three-day trip to Moscow in late March, which they described as an opportunity to deepen their "no-limits friendship".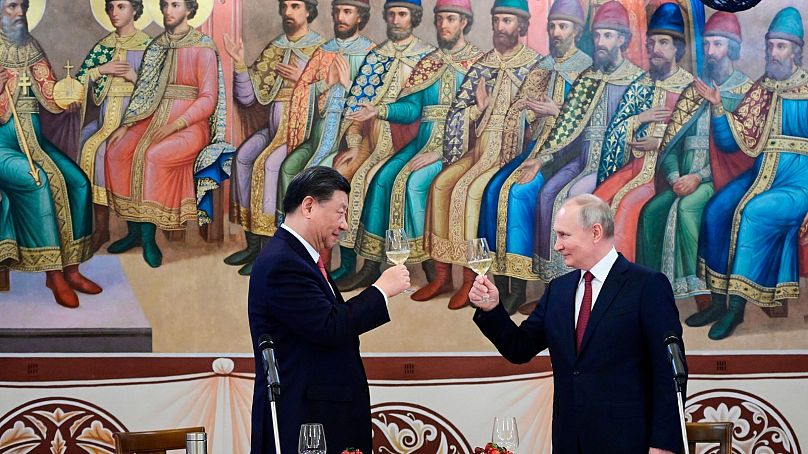 China says it is a neutral party and wants to help broker an end to the 15-month-old conflict between Russia and Ukraine. However, it has also refused to criticize the invasion and blamed the West for provoking Moscow. 
China says it does not and will not provide arms to either side in the Ukraine conflict, a point China's Deputy Permanent UN Representative Geng Shuang reiterated at a Security Council meeting Thursday.
Shuang also criticised Western arms sales to Ukraine. He said they would only lead to escalation, more civilian casualties and displacement – which in turn would make it harder to obtain a ceasefire and start peace negotiations.
"The constant feeding of weapons to the battlefield will … also pose serious challenges to post-war reconstruction and, if such weapons are diverted to terrorists or armed groups, likely cause new turmoil in a wider geographic area," Geng was cited as saying on the UN's website.
"All parties should promote a political settlement with sincerity and urgency and create conditions conducive to a ceasefire," Geng added.
China is now seen as the senior partner in the relationship, helping Moscow deflect condemnation at the United Nations. China has also maintained what it calls "normal trade" with Russia, providing a market for Russian oil and selling the country manufactured goods it needs.
At the same time, Beijing is making inroads into what has traditionally been Russia's strategic backyard, this week hosting a summit of five former Soviet Central Asian republics.
China's special envoy met with Ukrainian President Volodymyr Zelenskyy and other government officials during talks in Kyiv earlier this week. The visit followed a phone call last month between the Ukrainian leader and his Chinese counterpart Xi Jinping that Zelenskyy described as "long and meaningful" and which marked the first known contact between the two since the Russian invasion began.
Beijing released a peace plan in February but Ukraine's allies largely dismissed it, insisting that Russian President Vladimir Putin must withdraw his forces. Zelenskyy's own 10-point peace plan includes a tribunal to prosecute war crimes committed by Russia.
Source : Euro News