Rep. James Comer, R-Ky., chairman of the House Committee on Oversight and Accountability, vowed Wednesday to "get to the bottom" of who is buying Hunter Biden's art amid a wider probe into the first son's foreign business dealings while his father was vice president.
Fox News Digital previously reported that Georges Bergès, the art dealer representing Hunter Biden, has longstanding ties to China and said in 2015 that he wanted to be the art world's "lead guy in China."
Comer responded to that comment on Wednesday, telling Fox News Digital that "foreign adversaries, including China, have used transactions involving sham art sales to launder money and evade sanctions imposed by the United States."
"For decades, Hunter Biden has peddled influence and access to his father and engaged in shady business dealings with foreign adversaries around the world," Comer said. "Given Hunter's history of suspicious activity, it is deeply concerning that the President's son continues to sell his amateur artwork to anonymous purchasers for sky-high prices."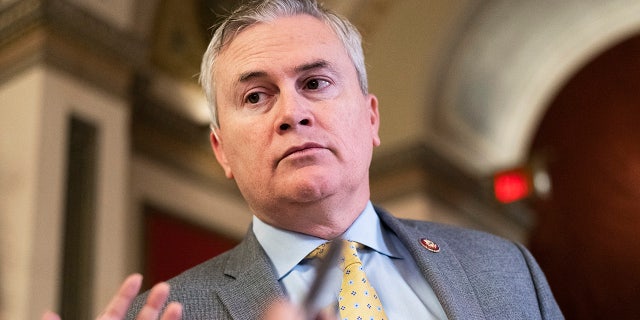 Rep. James Comer, R-Ky., prepares for a television interview in the U.S. Capitol on Thursday, January 12, 2023. 
"Hunter's art dealer, [Georges] Bergès, has also made it clear that he intends to be the 'lead guy' in China for art," he continued. "Why would anyone pay Hunter top dollar for items that are arguably worthless? He's no Pablo Picasso. As Chairman of the House Oversight Committee, I will continue to push for transparency and answers for the American people to get to the bottom of who is buying Hunter's art."
Earlier Wednesday, Comer sent a letter to Bergès, who owns the Georges Bergès Gallery in SoHo, Manhattan, demanding he turn over all communications between his gallery and the White House related to a reported deal to withhold all records of the prices and final buyers for Biden's art.
"The Committee on Oversight and Accountability is investigating President Joe Biden and his family's foreign and domestic influence peddling schemes," Comer wrote to Bergès. "For over a decade, the Biden family has profited from Joe Biden's positions as a public official. Your arrangement with Hunter Biden raises serious ethics concerns and calls into question whether the Biden family is again selling access and influence. Despite being a novice artist, Hunter Biden received exorbitant amounts of money selling his artwork, the buyers' identities remain unknown, and you appear to be the sole record keeper of these lucrative transactions."
"You have advertised that Hunter Biden's latest artwork ranges in price from $55,000 to $225,000. It is concerning that President Biden's son is the recipient of anonymous, high-dollar transactions—potentially from foreign buyers—with no accountability or oversight (other than you)," Comer wrote to Bergès. "The American people deserve transparency regarding certain details about Hunter Biden's expensive art transactions. We believe you possess important information related to this investigation."
House Republicans previously sought information on Hunter Biden's art deals in the last Congress, when they were in the minority, but their requests to Bergès went unanswered.
The gallery's website says it is currently "under maintenance," and Hunter Biden's webpage was deleted in recent days.
As recently as Jan. 17, Hunter Biden's page on the gallery's website read, "A lawyer by profession, Hunter Biden now devotes his energies to the creative arts, bringing innumerable experiences to bear. The results are powerful and impactful paintings ranging from photogenic to mixed media to the abstract. His chosen substrates are canvas, YUPO paper, wood, and metal on which he affixes oil, acrylic, ink along with the written word; all of which creates a unique experience that has become his signature."
Now, the page reads, "404 not found."
Republican Reps. Lauren Boebert of Colorado, Paul Gosar of Arizona and Clay Higgins of Louisiana, all members of the House Oversight committee, said they strongly support probing Hunter Biden's art sales.
"Hunter Biden's finger paintings clearly aren't worth $500,000 per piece," Boebert told Fox News Digital. "His clients weren't buying art, they were buying access. Who these buyers were and what access they received is something the American people absolutely deserve to know – especially if it turns out the art was being bought from Georges Bergès's friends in the CCP."
"I strongly support investigating what appears to be open and notorious corruption and possible bribery of Joe Biden through transparently thin payments for no show jobs, amateur 'art' and other money laundering tactics," Gosar told Fox News Digital. "The integrity of our government is too important to let Ukraine or China openly bribe our elected officials via a ruse with payments to Biden family members."
"We're going to investigate everyone involved with the Biden crime family," Higgins said. "We are looking into the 148 suspicious activity reports issued by federally insured banks, money laundering, and corrupt interactions with China. Oversight investigations will reveal deep, uncomfortable truths. If someone goes to jail, then so be it."
Republican Reps. Matt Gaetz of Florida, Andy Biggs of Arizona and Darrell Issa of California, all members of the House Judiciary Committee, which is also investigating Hunter Biden, also supported the inquiry.
"What do art and Ukraine have in common? Both have been used extensively throughout history for money laundering," Gaetz told Fox News Digital. "I fully support Chairman Comer's investigation into foreign influence over the Bidens."
Biggs' press secretary said the congressman "unequivocally supports Congressman Comer's letter sent to Hunter Biden's art dealer, Georges Bergès. Bergès may have crucial information related to Hunter Biden. The House Oversight and Accountability committee will leave no stone unturned."
"Chairman Comer is setting the right tone at the Oversight Committee, and I am confident that he will follow the facts wherever they lead," Issa said. "He knows that Biden family corruption occurred all around the world and that the truth about Hunter's art deals and other schemes abetted by the Bidens must be shown to the American people."
During a 2015 interview with Resident, Bergès said he wanted to be the art world's leader in China, Fox News Digital previously reported.
"My plan is to be the lead guy in China; the lead collector and art dealer discovering and nurturing talent from that region," Bergès said. "I plan to find and discover and bring to the rest of the world those I consider China's next generation of modern artists."
He also said he believes "China's economy is transforming the global economy and everything is changing because of a rising China," and that he was fascinated by "cultural impact" China is "having on the world."
"Cultural power is real power. That is the reason America continues to be the capital of the world, because of its influence on culture for generations and on an unrivaled global level," Bergès also said. "And I think more and more the Chinese are beginning to understand that cultural innovation will power their future cultural influence across continents."
In a 2014 interview with Quest magazine, Bergès noted that he travels to China "three or four times a year" and that, at the time, he had a "solid group of about 25 collectors, most of them overseas."
Art experts have derided Biden's artwork as overpriced, suggesting buyers will be paying for the Biden name rather than the art itself.
Others have raised questions over whether confidential art buyers are trying to curry favor with the first family, suggesting White House involvement in negotiations for the prices is an ethics problem. 
Anonymous buyers could have ties to the Chinese Communist Party and could attempt to buy influence in the Biden administration through the art purchases.
Bergès has also been quoted in the Chinese state-run newspaper China Daily for his involvement in a philanthropy event with three Chinese artists, whose pieces Bergès said "are not just pretty objects to create, but also challenge the locals' perceptions of what China is and the institutions they live with."
Hunter Biden's lawyer and the art gallery did not respond to Fox News Digital's request for comment.
Source : Fox News