A man suspected of shooting Shinzo Abe, Japan's longest serving prime minister, told police he was dissatisfied with the former leader and that he "aimed to kill."
Police arrested Tetsuya Yamagami, 41, from Nara city, on suspicion of attempted murder at the scene shortly after Abe was shot on Friday while campaigning for a parliamentary election in the Nara prefecture.
Local media reports cited Japan's defense ministry as saying that the suspect worked for the Japan Maritime Self-Defense Force for three years until about 2005.
Public broadcaster NHK reported that a man armed with what appeared to be homemade gun opened fire at Abe from behind. The outlet also reported that Yamagami told police that he wanted to kill Abe.
Abe, 67, was airlifted to hospital, and an official said he appeared to be in a state of cardiac arrest. Prime Minister Fumio Kishida later said he was in a grave condition.
An NHK reporter who was on the scene at the time of the shooting reported hearing two gunshots before Abe collapsed.
According to the local fire department, Abe was wounded on the right side of his neck and on his left chest.
Nobuo Kishi, Japan's minister of defense and the younger brother of Abe, was cited by NHK as telling reporters on Friday afternoon that the hospital in Nara where Abe was transported to was working hard to save his life, including by carrying out blood transfusions.
He said he was aware of reports that the suspect had worked for the Maritime Self-Defense Force and said: "I am cooperating with the police investigation, so I will refrain from further comments."
"No matter what your background is, it's not forgiven," he said.
A witness told NHK that the shooting suspect didn't seem to run away after firing at Abe. "He stayed there, and the gun was there," the woman said.
A man who was near the scene at the time of the shooting told the broadcaster that the gunshots "sounded like fireworks."
"The suspected criminal was holding something bigger than a pistol," he said.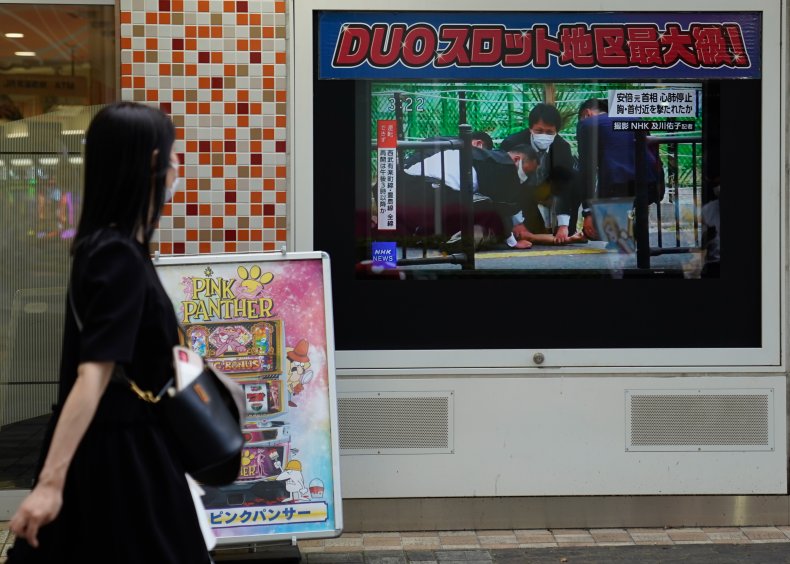 Japan's National Police Agency said Yamagami's current occupation is unknown.
Kishida condemned the attack as unforgivable in a statement on Friday.
"The background of this crime is not yet fully understood, but it is a sneaky brutality that took place during the elections that are the basis of democracy, and it cannot be forgiven," he said.
The suspect is reportedly being questioned at the Nara Nishi Police Station, according to NHK.
Source : News Week