Beijing has recorded its hottest June day in more than 60 years with the mercury touching 41.1C (105.9F), Chinese weather authorities say.
The city is experiencing a prolonged heatwave with extreme temperatures to persist until the end of June.
On Thursday, officials said it was the hottest June day since record keeping began in 1961.
Several monthly heat records have been broken around China this year, prompting fears of an energy crunch.
Last month, the country's largest city Shanghai, with 25 million people living on the east coast, recorded its hottest May day in a century.
More than 21 million people live in Beijing, the nation's capital in the north.
On Thursday, a weather station in the city's north recorded a high of 41.8C.
Authorities earlier issued an orange alert, the second-most severe weather warning, saying that temperatures could reach 39C in the days to Saturday.
The national weather bureau also issued a heat stroke alert last week – a fortnight earlier than in previous years.
Local authorities in Beijing, Tianjin, and other cities in northern and eastern China, advised people to suspend outdoor work during the hottest parts of the day and to get medical help if they show symptoms of a heat stroke.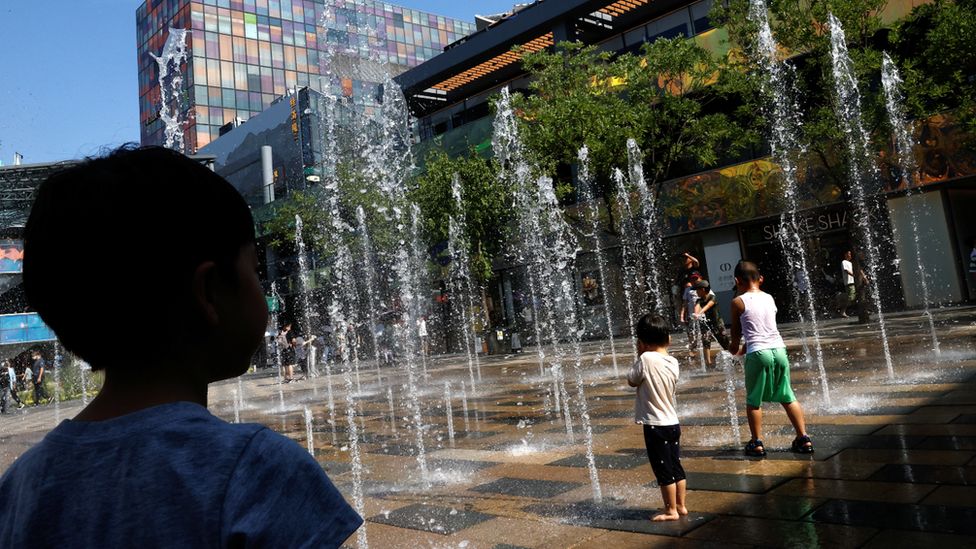 Some have also warned people and businesses to curb their electricity usage.
Last week, the National Energy Administration staged its first-ever emergency drill in China's eastern region, simulating a power surge and outage in the face of any large-scale power outages.
The situation was "relatively severe" in regards to power grid security, the agency said.
In the port city of Tianjin, an increased demand for air-conditioning has pushed up the power grid's load 23% relative to last year. Workers from the local utility department were patrolling underground tunnels daily to make sure electric cables were working properly, officials said.
Rising temperatures and more frequent heatwaves are the result of global climate change. A study released last month found climate change had made heatwaves 30 times more likely in Asia.
It had also raised temperatures by at least 2C in many parts of Asia during an April heatwave. The region has been described by experts as experiencing "the worse heatwave in [its] history".
Thailand, Laos, Bangladesh and India all saw record temperatures of up to 45C in April.
The extreme heat caused deaths and hospitalisations in some countries, melted roads and affected other infrastructure.
Heatwaves are one of the deadliest natural hazards in the world, causing thousands of related deaths each year.
Source : BBC