Chinese firms are playing an increasingly critical role in supporting Russia's military capabilities in Ukraine, including by exporting goods that are ending up on the battlefield, new analysis by CNBC shows.
Russian customs data filed as recently as August point to the continued importation of drones, helmets, vests and radios from China, providing a lifeline for President Vladimir Putin's over 18-month war of attrition, and offering a lucrative avenue for Chinese companies.
At the same time, Chinese goods of less widely documented Chinese exports that are ostensibly for civilian use, including vehicles, construction equipment and synthetic materials, are providing direct and indirect support to Russia's war efforts, analysts say.
"I think there's no question that the Chinese authorities are aware of the trade flows," Mark Cancian, senior adviser at the Center for Strategic and International Studies, a Washington-based think tank, said. "They're large enough that they could not continue without the acquiescence of the Chinese government."
The defense ministries of China and Russia did not respond to CNBC's request for comment on the trade flows.
This trade is happening despite insistence from Beijing that its trade with Moscow constitutes "normal economic cooperation" and that it targets no "third party." Last Wednesday, Chinese Foreign Minister Wang Yi confirmed China's continued business cooperation with Russia ahead of a planned meeting between Putin and Chinese President Xi Jinping in October.
The comments follow the release in July of a U.S. intelligence report stating that China "has also become an increasingly important buttress for Russia in its war effort, probably supplying Moscow with key technology and dual-use equipment used in Ukraine."
Examples of goods supplied included navigation equipment, jamming technology and fighter jet parts, it said.
Indeed, Kyiv has reported that its forces are increasingly finding Chinese components in weapons used by Russia's military since April — the same month that Putin and Li Shangfu, the Chinese defense minister at the time, reiterated their countries' "no limits" partnership.
Ukraine's Defense Ministry and the general staff of the Ukrainian Armed Forces did not immediately respond to a request for comment on the battlefield findings.
According to the United Nations Comtrade database, which aggregates global trade statistics, in 2022 total trade between Russia and China hit a record high of $190 billion in 2022, up 30% from a year earlier. This year it is set to eclipse that figure, with total trade hitting $134 billion in the first seven months of 2023.
China now accounts for around half (45% to 50%) of Russia's imports, up from one-quarter before the war, according to estimates from the Bank of Finland's Institute for Emerging Economies. That includes trade of so-called dual-use items and technologies — goods with both civilian and military applications, such as drones and microchips.
In 2022, China sold more than $500 million worth of semiconductors to Russia, up from $200 million in 2021. Meanwhile, China sold more than $12 million worth of drones to Russia in the year to this March.
An analysis of Russian declarations and certificates of conformity filed to the Federal Service for Accreditation — a prerequisite for the import and sale of goods in the country — showed the trade of such goods between Russian and Chinese companies from the beginning of Moscow's full-scale invasion of Ukraine in February 2022 to the present. Such declarations are filed by the buyer rather than the maker of the goods.
Drones produced by Chinese multinational SZ DJI Technology were registered in Russia in unspecified volumes on various occasions from September 2022 to January — with imports stemming both directly from the company and indirectly from Chinese exporters, including Shenzhen-based Autel Robotics and Iflight Technology — translated filings show.
That is despite DJI issuing a statement on its website in April saying that it had "voluntarily suspended all sales to and business in both Russia and Ukraine as of April 26, 2022 and contractually forbid any sales by dealers to either country and for combat use."
When contacted, a DJI spokesperson said: "We take regulatory compliance very seriously, and we have taken all steps in our control to emphasize that our products should not be used in combat to cause harm or be modified to be turned into weapons."
One of the importers of the drones, Moscow-based Nebesnaya Mekhanika, which roughly translates as "Heavenly Mechanics" and which, before the war, was DJI's official distributor in Russia, reported its shipment in September 2022, the documents showed.
Another importer, Moscow-based Vodukh, also registered an unspecified number of lithium ion and lithium polymer batteries and an unknown number of battery stations directly from DJI in November 2022 and this July, according to the records. Such items can be used to power goods ranging from small electronic devices to electric vehicles.
A third, Rostov-on-Don-registered Pozitron, additionally imported more than 54,000 helmets — either construction or military, according to the vague wording of the filing — from the Chinese suppliers Liaoning B&R Technology and Beijing KRnatural International Trade Co. in late 2022.
Defense analyst Cancian said it was apparent that such goods have been a critical facet of Russia's military arsenal.
"They (Russia) have been firing, for example, artillery at the rate of 10,000 to even 20,000 rounds a day. To keep up that level of expenditure, they need to get some help from the outside," he said.
"They also started running out of cruise missiles. Their stocks were pretty much exhausted within the first six months or so, so they've been able to manufacture additional cruise missiles with components provided by the Chinese," he added.
Helmets and vests were also procured in batches of 100,000 each in November 2022 from the Shanghai-headquartered Deekon Industry Co., a manufacturer of military products and police equipment, by Moscow-based Legittelecom, documents showed.
Legittelecom, which, according to its website, provides consulting services on permits for the "import, export and sale of radio electronics and high-frequency devices," also imported an unknown number of portable radios, or walkie-talkies, from the wireless communications company Hong Kong Retekess in March.
It was not clear from the documents if Legittelecom was the end user of the products, or to whom it was supplying the goods, though Chinese-made radios have been recovered from Ukraine's battlefield. The companies did not respond to a request for comment on the transactions.
However, analysts said the irregular import patterns suggest there is opportunism among businesses on both sides as they seek to take advantage of Moscow's military needs.
"What we are seeing is that Chinese companies are selling to Russia what they maybe can't sell in China or the West at a higher price," said Antonia Hmaidi, an analyst at the Berlin-based Mercator Institute for China Studies, who has been studying Chinese dual-use exports to Russia since the start of the war.
"It's not the big exporters in China exporting this. Instead, it's these small companies," Hmaidi said, noting that the implications of Western sanctions targeting such companies would be minimal. "The companies, they don't really have a lot of inherent value, which makes it quite easy to just open another one."
Indeed, one company, Silva, was registered in the remote eastern Siberian region of Buryatia in September 2022, and submitted import filings for 100,000 helmets from Shanghai H-Win New Material in March. More recently, in August, it filed for an unspecified number of radio telemetry systems, which can be used for tracking drones, from Hubei Jingzhou Mayatech Intelligent Technology.
Hmaidi cited another example of a Hong Kong company, established in 2020, which used to supply North Korea and has now added Russia to its books. Pyongyang, for its part, has been strengthening ties with Moscow, with the countries' leaders meeting in Russia's far eastern Amur region earlier this month amid Western suspicions that North Korea may be readying to provide Russia with war materiel.
CNBC contacted or attempted to contact all of the companies mentioned and received no response.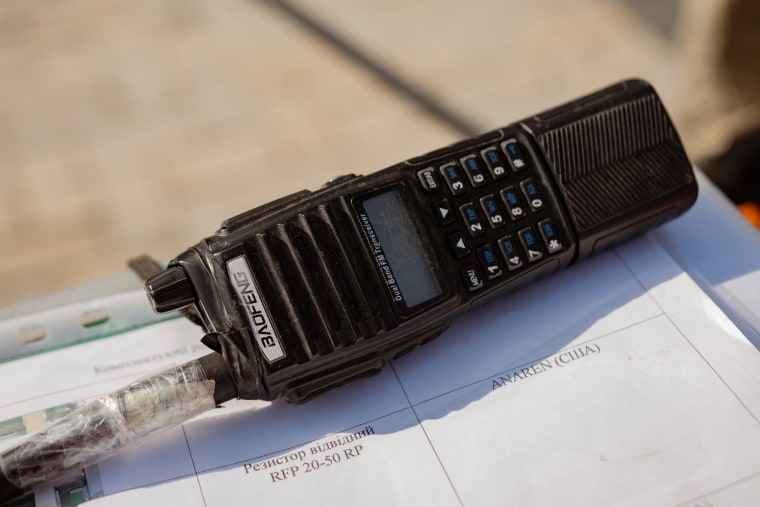 'Underappreciated' trade flows
As well as goods with overt military applications, Russia has also increased imports of Chinese goods with potential direct and indirect war implications, according to analysts.
Chinese shipments to Russia of Aramid fiber, for instance, a class of heat-resistant synthetic fibers whose applications range from bicycle tires to bulletproof vests, rose more than 350% in dollar value terms in 2022 versus 2021, according to data compiled for CNBC by ImportGenius, a customs data aggregator. This January and February alone, imports were close to 50% of 2022's full-year total.
Meanwhile, construction equipment has played an "underappreciated" but significant role in China's contribution to Russia's war efforts, having helped bolster its defenses against Ukraine's counteroffensive, said Joseph Webster, senior fellow at the Atlantic Council, a Washington-based think tank.
"Excavators and front-end shovel loaders are one of the most significant and frankly underappreciated aspects of China's engagement with the war in Ukraine," said Webster, who has studied the surge in such exports.
"There was a massive increase in trench-digging equipment to Russia at a time when the Russian military forces were digging trenches. And that's almost certainly not a coincidence," he added.
Russian imports of Chinese earth-moving front-end shovel loaders were almost two times higher, and imports of excavators more than three times higher, in the first seven months of 2023 than during the same period a year prior, trade data showed.
Imports of Chinese heavy-duty trucks more broadly were up 11 times in value terms from this January to May compared to the same period in 2021, with some identified on the battlefield and others used indirectly.
In June, a video featuring the head of Russia's Chechen Republic, Ramzan Kadyrov, was shared on his official Telegram social media account. In it, he showcases various armored vehicles, including armored personnel carriers that appear to be Chinese Tiger vehicles, that he said were being deployed to Russia's so-called special military operation in Ukraine.
"Even if the Chinese exports aren't directly on the front lines, they're still providing important economic assistance to Russia," said Webster, suggesting that the added fleets could have significant implications in allowing Moscow to balance manufacturing output essential to both its civilian and military populations.
"Because Chinese truck exports have supplied the Russian civilian sector with trucks, Kamaz might be able to repurpose production lines for armored vehicles," Webster said of Russia's sanctioned, state-owned truck manufacturer.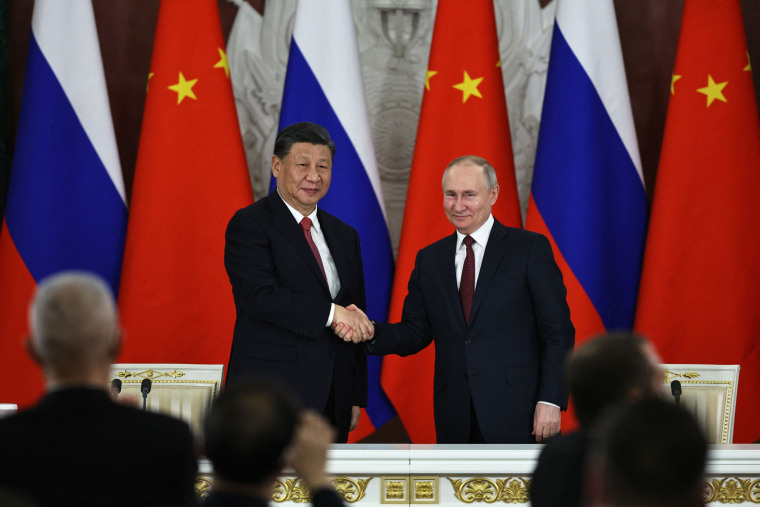 Chinese government collusion?
The meta-analysis findings add to the growing list of Chinese goods and companies reported to be supplying Russia's military, including state-owned enterprises.
The July U.S. intelligence report cited state-owned China Taly Aviation Technologies and China Poly Technologies among the companies found to be providing Kremlin-linked defense companies with parts, including for Mi-system helicopters found on the front lines.
When asked for comment on the intelligence report and the trade of dual-use goods, China's commerce ministry referred CNBC to its response in May to a similar question, in which it said its trading relationship with Russia was based on "mutual respect and mutual benefit, in which both win."
"The Chinese department in charge has made clear China's position on the Ukraine issue on many occasions: China will not add fuel to the fire, let alone take advantage of (the situation)," the ministry added, according to a translation.
It follows comments from the foreign ministry in April, which said that China would "not provide weapons" to either side in the war, and that it would "control the exports of dual-use items in accordance with laws and regulations."
It remains unclear to what extent Chinese authorities are aware of — or implicated in — the trade. The items being dual-use has thus far left enough room for deniability for China to avoid Western sanctions. Meanwhile, Washington and the E.U. have both been reluctant to accuse Beijing outright.
The White House's National Security Council did not respond to a request for comment on the trade flows.
However, analysts noted that there is little indication that Beijing is taking actions to mitigate the sales.
"Exporters in China who export to Russia are not going to receive penalties for doing so, so long as they don't explicitly violate Western sanctions and don't provoke additional tensions with the West. So long as they can keep these exports quiet, they seem to be at little risk of provoking the ire of the Communist Party," Webster said.
Still, continued alliance with Moscow could have significant long-term consequences for China's slowing economy. Already, the U.S. and several Western allies have restricted the trade of certain sensitive technologies to China as part of a wider de-risking, or diversification, away from Beijing amid national security concerns.
"China would prefer for Russia not to lose, but they would prefer not to get involved," Hmaidi said. "There could be arguments to send weapons, and there has been intelligence around maybe they want to send weapons. But also, they are very, very careful to stay below the sanctions."
Western allies now face a difficult decision: Either target individual sellers knowing the impact may be limited or take action against Beijing with potentially wider repercussions and risks of retaliation.
"If China were to openly support Russia, there would be huge ramifications for the totality of Beijing's economic, political and security relationship with the Washington- and Brussels-led alliance of democracies," Webster said.
Source : NBC News